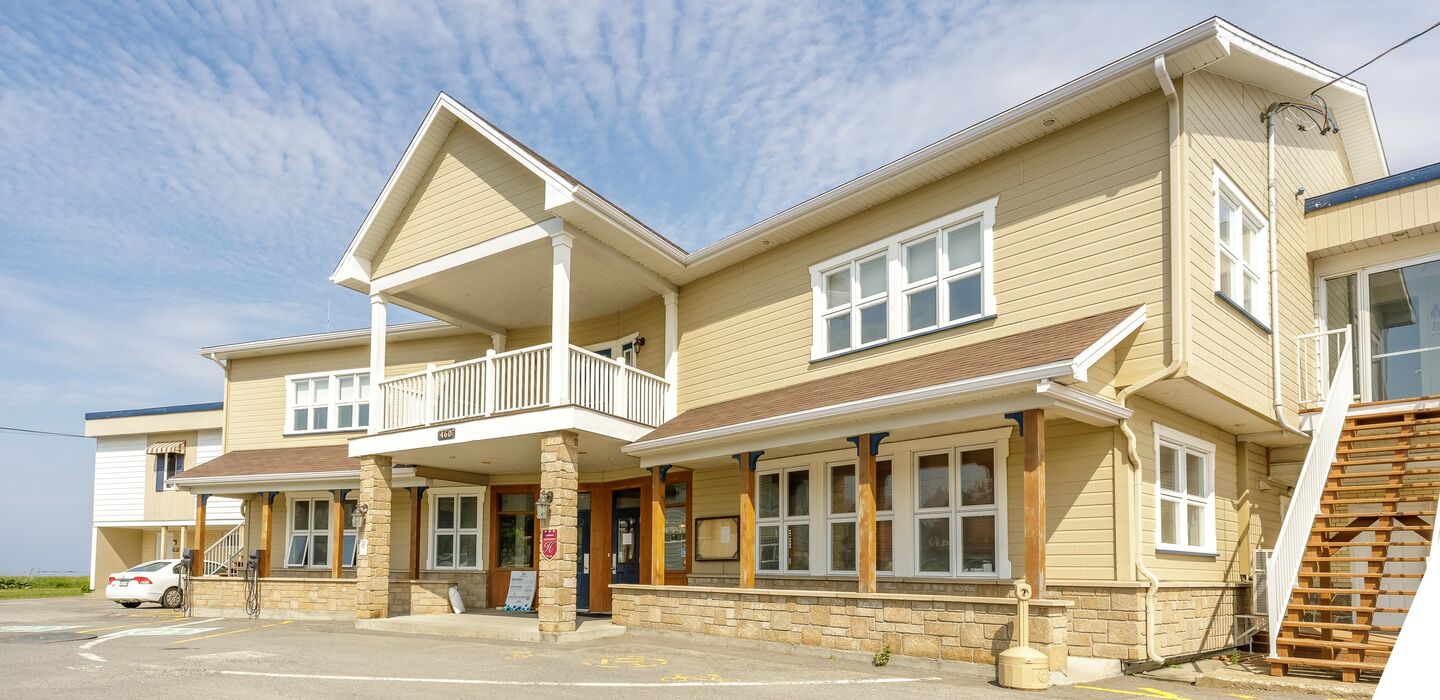 Texte entête

Le Gaspésiana
Sainte-Flavie - Gaspésie
Ôrigine Member for 2 years.
The ideal destination
for your vacation in Gaspésie!
The Gaspésiana is located at the crossing of road 132, which makes it an ideal pit stop during your trip around the Gaspesian Peninsula! You will undoubtedly enjoy its renovated rooms and dining room with a view on the River!
Parc de la rivière Mitis
1 — 4
Marcel Gagnon Art Center
3 — 4
Experience the beautiful Gaspésie
Live to the rhythm of nature in Gaspésie! Whether you are on a hike in the Parc de la rivière Mitis or at the summit of Mont-Comi, you will be amazed by the beauty of the landscapes. From June to October, take the time to visit the Métis Gardens, a national historic site of Canada.
Visit a work of unique art during your visit to the Marcel Gagnon Art Center. Le Grand Rassemblement is made up of more than a hundred figures sculpted and exhibited by the St. Lawrence River.
A stay Gaspésie is also an opportunity to get away from it all and enjoy life in an enchanting setting!
A moment of relaxation by the water
Le Gaspésiana gives you the opportunity to relax in its health center, located on the edge of the St. Lawrence River. La Maison Hélios offers an amalgam of treatments that will give you a sentiment of relief and revitalization. End your day with a moment of relaxation on the shore while admiring the sunset with a thousand iridescent reflections.
Local products in the spotlight
2 — 2
Taste the flavors of the sea
The cuisine of the restaurant Au goût du large is without a doubt a must-see gourmet stop at the entrance of La Gaspésie. Experience tasty cuisine, on a menu that showcases products from several local producers.
The restaurant also offers a breathtaking view of the magnificent St. Lawrence River. You will be won over by the delicious dishes of the sea flavors and the quality of the ingredients from local producers.
Our artisans - Geneviève Raîche, general manager
It is, among other things, the richness of the cultural environment that makes the beauty of the municipality of Sainte-Flavie and that is what Geneviève Raîche, Director General, tells us about in this capsule.
— Activities
Onsite
Massage
Fitness center
Beauty treatments
Beach
Fishing
Nearby
Hiking
Non-motorized nautical activities
Golf
Snowshoeing
Ice skating
Snowmobiling
Ski station
Museums and art galleries
— Our services
Therapeutic bath (in the room)
Dogs welcome
Free WiFi
Free parking
Charging stations
Restricted mobility : Partially accessible
3 star hotel
On-site restaurant
Queen bed
460, route de la Mer,
Sainte-Flavie, QC G0J2L0
CITQ Number: 057536