Mont-Tremblant - Laurentides
Ôrigine Member for 1 years.
The ultimate comfort,
only 10 minutes away from the Mont-Tremblant mountain!
Whether you are staying there with family or as a couple, the cool side of this newly renovated hotel will take your breath away for sure! At only ten minutes from the Mont-Tremblant mountain, you will find a quiet, easily accessible environment that is surrounded by nature.
The relaxation area
2 — 5
New modern hotel in the heart of the Mont-Tremblant city center!
Whether traveling for business or pleasure, AX Hôtel Mont-Tremblant offers you an unparalleled experience for a memorable business trip and exceptional vacation with modern and spacious rooms as well as fully equipped condos. Be amazed by the unique resort destination in the Laurentians, the splendid Mont-Tremblant region. AX Hôtel is a wellness getaway in nature near a vibrant city that hosts many amazing activities.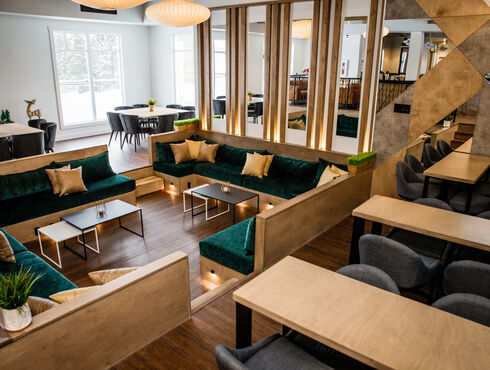 Discover our lounge space Les Sans filtres coffee-bar!
You go there to unwind while savoring an excellent coffee or having a drink. The atmosphere is relaxed, you will want to spend several hours to completely disconnect and chat without any filter. In addition to its exquisite coffee blends, Les Sans filtres offers lunches and snacks to eat in or to go with fresh and local products.
Breathtaking landscapes
1 — 2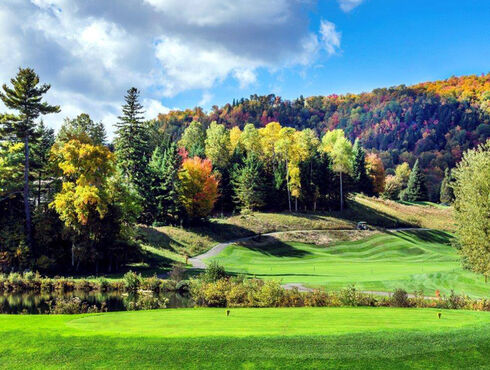 Golf courses nearby
2 — 2
Enjoy a region full of activities by choosing the AX Hôtel!
The Mont-Tremblant region is known to be the host region of many events and there are always plenty of activities to do. Concerts, sporting competition, shopping, cultural and gourmet festivals, amazing golf courses, beautiful mountains… there is something for everyone year-round!
The Confo King Louge
Lovers love it! The spacious King bed, the lounge area invites you to relax, all in a modern comfort-oriented setting.
The Classic
The Classic, the standard room of the hotel industry reviewed and modernized. Perfect for families and friends!
The Convenient King Lounge
A functional room that offers all the comforts with its king bed, in addition to providing a fully equipped kitchenette. A must for long stays!
The Convenient Classic
A functional room with two Queen beds that offers all the comforts and offers a fully equipped kitchen. A must for long stays with family or friends!
The Superior King Lounge
Adapted to any type of clientele, the enhanced room is the most spacious of the rooms and offers you a better comfort for the best stays.
The Bubbly
Desire for appeasement combined with the desire to put a bit of frenzy in the routine? The romantic Bubly room is for you.
Current packages
In this hotel
AX Hôtel
Mont-Tremblant - Laurentides
Relaxing getaway
1-night stay in a classic or Comfo King Lounge room
1 breakfast
One day access to the Scandinave Spa Mont-Tremblant
1 AX bottle of water
AX Hôtel
Mont-Tremblant - Laurentides
Romantic getaway
1-night stay in a Confo King Lounge room
1 breakfast
2 drinks at Café-Bar Les Sans Filtres
Access to all hotel's facilities
AX Hôtel
Mont-Tremblant - Laurentides
Bed and Breakfast
1-night stay in a classic or Comfo King Lounge room
1 breakfast
Access to all hotel's facilities
Access to the 24-hour training room
— Activities
Onsite
Outdoor pool
Fitness center
Jacuzzi
Steam bath
Tube sliding
Nearby
Indoor pool
Massage
Beauty treatments
Lakeside
Riverside
Non-motorized nautical activities
Beach
Golf
Mountain bike
Hiking
Cross-country skiing
Snowshoeing
Ice skating
Fatbike
Snowmobiling
Ski station
Bike path
Museums and art galleries
Fashion shop
— Our services
Queen bed
King bed
Lounge area
Kitchenette
Espresso coffee maker
Therapeutic bath
Free WiFi
Free parking
Charging stations
Restricted mobility : Full access
3 star hotel
On-site restaurant
Mont-Tremblant - Laurentides
860, rue Lalonde, C.P. 4598,
Mont-Tremblant, QC J8E 1A1