Texte entête

Auberge du Lac Taureau
Saint-Michel-des-Saints - Lanaudière
Ôrigine Member for 7 years.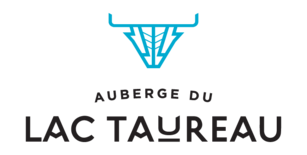 The ultimate souvenir creator in the great outdoors!
Recognized for the breathtaking beauty of the surrounding nature and its typical log style, the Auberge du Lac Taureau is the ideal starting point to explore kilometers of beach in summer, or to taste the snow-covered pleasures offered in Lanaudière.


Kayaking and other nautical activities
1 — 5
Go on an adventure and fully enjoy the Auberge du Lac Taureau experience!
The outdoor lover's paradise is here in Lanaudière! In summer as in winter, a multitude of activities are available to you, whether you are alone, with friends or as a couple. Fatbike, kayaking, cross-country skiing, canoeing, snowshoeing, paddleboarding, snowmobiling, watercraft, all-terrain vehicle, horseback riding, and more to discover.
The Auberge borders the splendid Lac Taureau, with more than 270 km of shoreline and 95 km2 of surface area, which offers you many possibilities for planning a stay in the great outdoors.
At the heart of the Inn is the indoor and outdoor pool, jaccuzis and saunas with breathtaking views of the enchanting surroundings!
The Red Deer restaurant
1 — 3
The Red Deer restaurant
2 — 3
The Red Deer restaurant
3 — 3
Discover the restaurant, the Red Deer, for typical Lanaudiere cuisine
The cuisine of the Auberge du Lac Taureau is the instigator of new flavors and gourmet discoveries. Inspired by the Lanaudière region and local flavors, chef Amélie Dumas has reinvented the menu with a selection of innovative dishes. Eating at the Auberge du Lac Taureau is a culinary experience that goes beyond food. It is to satisfy your senses by discovering new flavors, sitting in front of a breathtaking view and knowing that the service will be friendly since satisfaction is the watchword!
Team building activities
1 — 2
Choose the Auberge du lac Taureau for your event to impress!
Located between Quebec and Montreal, the resort offers the comfort of a log cabin, while offering a full range of activities, attentive staff and delicious gourmet cuisine.
The seven rooms accommodating up to 300 people offer a magnificent view of nature. The largest even offers a terrace for your outdoor cocktails.
In all seasons, the outdoor site is ideal for organizing your activities to rally your troops and team building!
Inn rooms
Discover our warm rooms offering a view of the surrounding nature, the pond or the lake!
King suite
Perfect for all your little family, our King suite in Inn will charm you for sure!
Condos
Our spacious fully equipped condos by the lake will give you more space to experience unforgettable moments!
Chalets
Luxurious and spacious, our fully equipped chalets are ideal for accommodating up to 26 people!
Our artisans - Stéphane Lord, General Manager
Stéphane Lord tells us about his first meeting with the Auberge which was totally magical, in addition to telling us about his love for this establishment.
— Activities
Onsite
Indoor pool
Outdoor pool
Jacuzzi
Steam bath
Massage
Lakeside
Non-motorized nautical activities
Motorized nautical activities
Beach
Fishing
Tennis
Golf
Mountain bike
Volleyball
Cross-country skiing
Snowshoeing
Ice skating
Fatbike
Snowmobiling
Tube sliding
Ice fishing
Nearby
Fitness center
Beauty treatments
Riverside
Ski station
Bike path
Zoo
Museums and art galleries
— Our services
Queen bed
King bed
Lounge area
Mini fridge
Kitchenette
Kitchen fully equiped
Espresso coffee maker
Balcony
Fire place
Therapeutic bath
Free WiFi
Free parking
Charging stations
Restricted mobility : Partially accessible
Dogs welcome
4 star hotel
On-site restaurant
Saint-Michel-des-Saints - Lanaudière
1200, chemin Baie du Milieu,
Saint-Michel-des-Saints, QC J0K 3B0