Texte entête

Auberge du Lac Taureau
Saint-Michel-des-Saints - Lanaudière
Ôrigine Member for 10 years.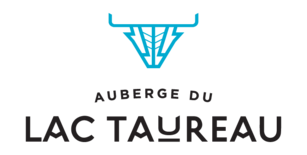 The ultimate souvenir creator in the great outdoors!
Recognized for the breathtaking beauty of the surrounding nature and its typical log style, the Auberge du Lac Taureau is the ideal starting point to explore kilometers of beach in summer, or to taste the snow-covered pleasures offered in Lanaudière.


Kayaking and other nautical activities
3 — 8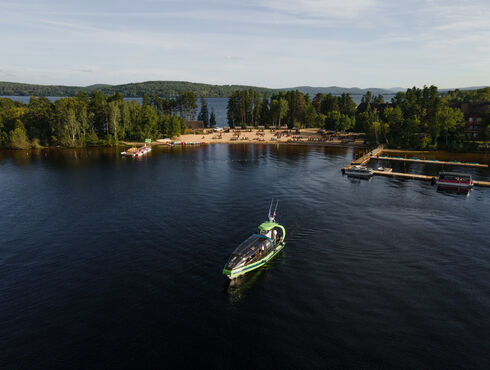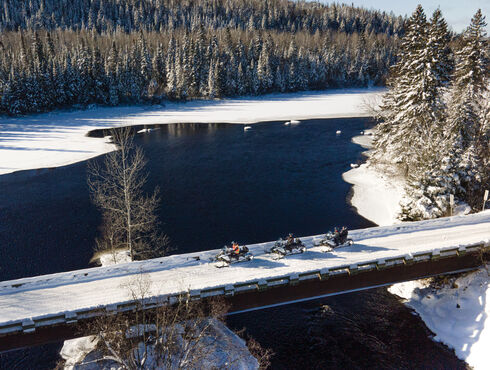 Enjoy the trails in snowmobile
8 — 8
Go on an adventure and fully enjoy the Auberge du Lac Taureau experience!
The outdoor lover's paradise is here in Lanaudière! In summer as in winter, a multitude of activities are available to you, whether you are alone, with friends or as a couple. Fatbike, kayaking, cross-country skiing, canoeing, snowshoeing, paddleboarding, snowmobiling, watercraft, all-terrain vehicle, and more to discover.
The Auberge borders the splendid Lac Taureau, with more than 270 km of shoreline and 95 km2 of surface area, which offers you many possibilities for planning a stay in the great outdoors.
At the heart of the Inn is the indoor and outdoor pool, jaccuzis and saunas with breathtaking views of the enchanting surroundings!
The Red Deer restaurant
1 — 3
The Red Deer restaurant
2 — 3
The Red Deer restaurant
3 — 3
Discover the restaurant, the Red Deer, for typical Lanaudiere cuisine
The cuisine of the Auberge du Lac Taureau is the instigator of new flavors and gourmet discoveries. Inspired by the Lanaudière region and local flavors, chef Amélie Dumas has reinvented the menu with a selection of innovative dishes. Eating at the Auberge du Lac Taureau is a culinary experience that goes beyond food. It is to satisfy your senses by discovering new flavors, sitting in front of a breathtaking view and knowing that the service will be friendly since satisfaction is the watchword!
Team building activities
2 — 3
Business events and conventions
3 — 3
Choose the Auberge du lac Taureau for your event to impress!
Located between Quebec and Montreal, the resort offers the comfort of a log cabin, while offering a full range of activities, attentive staff and delicious gourmet cuisine.
The seven rooms accommodating up to 300 people offer a magnificent view of nature. The largest even offers a terrace for your outdoor cocktails.
In all seasons, the outdoor site is ideal for organizing your activities to rally your troops and team building!
See image gallery
Standard Room
One large bed (Queen) or two large beds (Queen)
Mini-fridge and Nespresso machine
See image gallery
Signature Room
One large bed (Queen) or two large beds (Queen)
View of the pond
Terrace or balcony
Mini-fridge and Nespresso machine
See image gallery
Lake Room
One large bed (Queen) or two large beds (Queen)
View of Lake Taureau
Terrace or balcony
Mini-fridge and Nespresso machine
See image gallery
Canine Room
One large bed (Queen) or two large beds (Queen)
Terrace
Mini-fridge and Nespresso machine
See image gallery
King suite
One king bed and one sofa bed
Terrace or balcony
Living room
Some rooms with a gas fireplace (not guaranteed)
Mini-fridge and Nespresso machine
See image gallery
Classic Condo
A large bed (Queen) and a sofa bed
Large balcony or terrace
Living room and kitchenette
Gas fireplace
Bathroom with ceramic shower or therapeutic bath
Mini-fridge and Nespresso machine
Accessible for people with reduced mobility
See image gallery
The Grand Classic Condo
Main part: bedroom with a large bed (Queen)
Second bedroom with a large bed (Queen) and a sofa bed
Large balcony or terrace
Living room and kitchenette
Gas fireplace
Bathroom with ceramic shower or therapeutic bath
Mini-fridge and Nespresso machine
Accessible for people with reduced mobility
See image gallery
Royal Condo
Two large beds (Queen) and a sofa bed (double)
Large balcony or terrace
Living room and kitchenette
Gas fireplace
Bathroom with shower and therapeutic bath
Refrigerator and Nespresso machine
Accessible for people with reduced mobility
See image gallery
Presidential Condo
Main part: bedroom with a large bed (Queen)
Second bedroom with a large bed (Queen) and a sofa bed
Large balcony or terrace
Living room and kitchenette
Gas fireplace
Bathroom with free-standing bath
Bathroom with ceramic shower
Refrigerator and Nespresso machine
Accessible for people with reduced mobility
See image gallery
Lodges
4020 square foot chalet
Eight bedrooms (three bedrooms with a Queen bed / three bedrooms with a Queen bed & a Murphy bed / two bedrooms with two Queen beds)
Rooms with private bathroom
Eight-seater private hot tub & BBQ per chalet
Very large living room
Indoor and outdoor gas fireplace
Full kitchen fully equipped with dishwasher and double fridges
Large furnished outdoor terrace
Accessible for people with reduced mobility
Prices are subject to change
— Activities
Onsite
Jacuzzi (spa)
Outdoor pool
Lakeside
Massage
Steam bath
Indoor pool
Non-motorized nautical activities
Motorized nautical activities
Beach
Fishing
Tennis
Mountain bike
Volleyball
Cross-country skiing
Snowshoeing
Ice skating
Fatbike
Snowmobiling
Tube sliding
Ice fishing
Nearby
Fitness center
Beauty treatments
Riverside
Golf
Ski station
Bike path
Zoo
Museums and art galleries
— Our services
Fire place
Therapeutic bath (in the room)
Dogs welcome
King bed
Kitchenette
Lounge area
Mini fridge
Kitchen fully equiped
Espresso coffee maker
Balcony
Free WiFi
Free parking
Charging stations
Restricted mobility : Partially accessible
4 star hotel
On-site restaurant
Queen bed
Employés internationaux
Saint-Michel-des-Saints - Lanaudière
1200, chemin Baie du Milieu,
Saint-Michel-des-Saints, QC J0K 3B0
CITQ Number: 150953