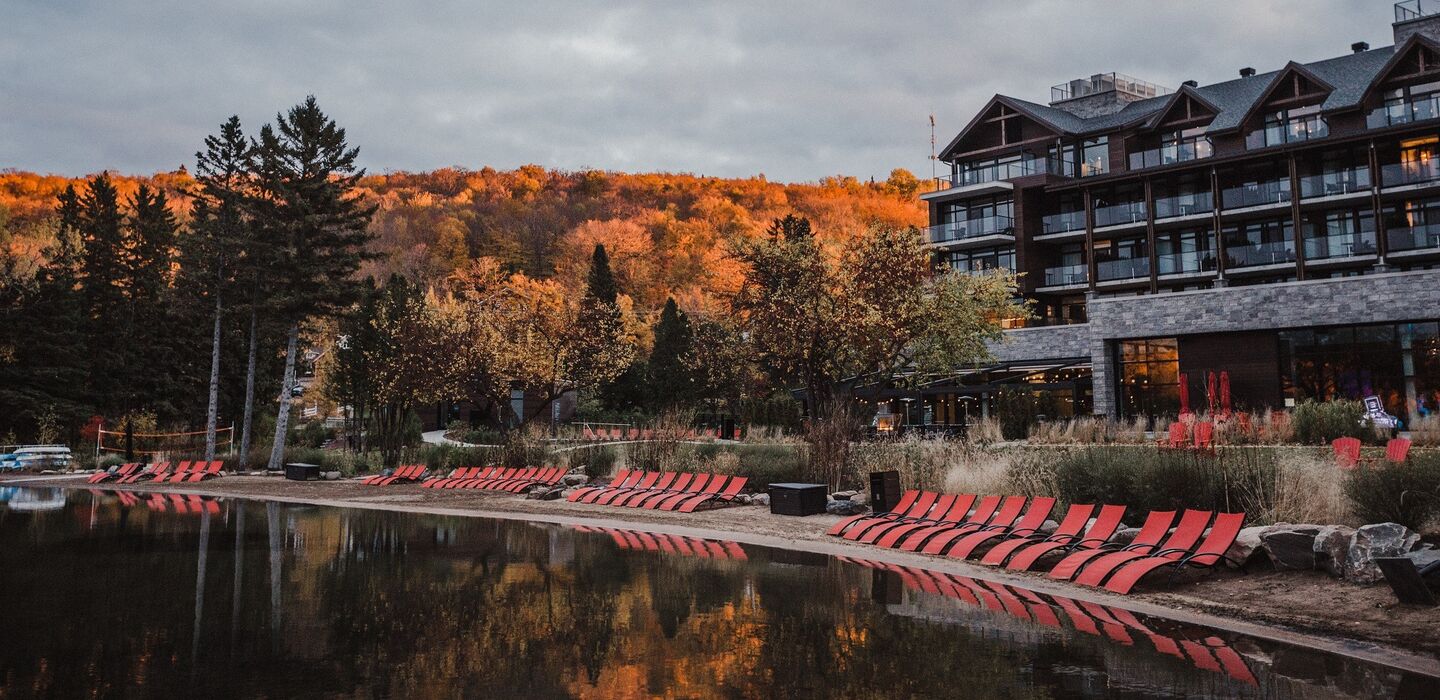 Texte entête

Entourage sur-le-Lac Resort
Lac-Beauport - Région de Québec
Ôrigine Member for 2 years.
Sleep well, move well, eat & drink well at Entourage, the new wellness resort in Quebec City!
In addition to 166 rooms & suites with balconies overlooking the mountains or the lake, the hotel offers sports facilities, an outdoor pool and hot tub, a wide array of activities and entertainment options supervised by coaches, a restaurant with delicious, creative and healthy dishes, and innovative and personalized services.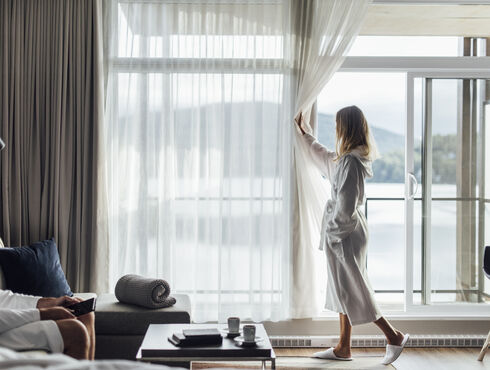 Sleep well
The 166 rooms, suites and penthouses are modern and they are perfectly equipped for the ultime confortable stay: sectional sofa, table and chairs, fridge, microwave and balcony, with panoramic views of Beauport lake or of the mountains. More spacious suites also offer more luxurious amenities.
Many nautical activities
1 — 7
A superb outdoor swimming pool
2 — 7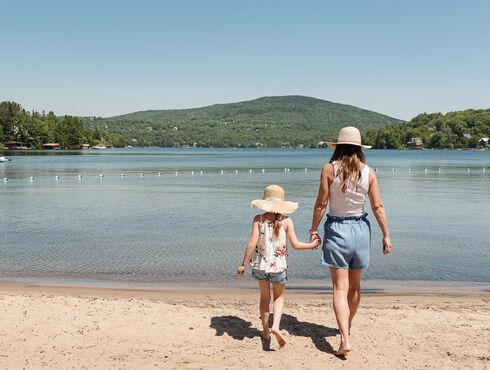 A beach for the whole family
3 — 7
Out of the ordinary activities
4 — 7
Many nautical activities
5 — 7
Fun winter activities
6 — 7
A 4-season outdoor jacuzzi
7 — 7
Move well
With a variety of activities and a playground with more than 5 acres, each aspect of your stay has been created so that when you leave, you'll feel more relaxed. In the summer, guests take advantage of bicycles, kayaks, paddle boards, pedal boats, outdoor swimming pool & jacuzzi, volleyball court and many relaxation areas. In winter, they offer fatbikes, ice skates, snowshoes, snow scooters, outdoor jacuzzi, hockey ice and more!
An inviting bar counter
4 — 5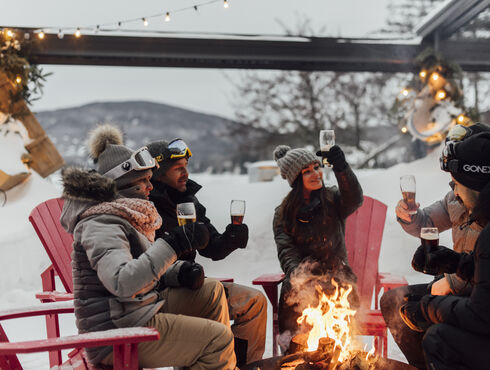 Snacks and drinks on the ice rink
5 — 5
Eat & drink well
L'îlot Repère gourmand, the hotel restaurant, is simply sublime. All the spaces offer a perfect view of the lake: the three-season patio, the bar, the island facing the open-concept kitchen and the large dining room. In winter, L'îlot also sets up on the ice rink to offer a snack and drink service! And what about the creative dishes, beautifully concocted with fresh and local ingredients!
Business events and conventions
1 — 1
Host your next business event at Entourage sur-le-Lac Resort
Looking for the ideal place to hold your business events and conventions? Its luxurious and modern fully equipped rooms will allow you to organize corporate events that meet your expectations.
Parc de la Chute-Montmorency - photo credit : Luc Charbonneau
1 — 2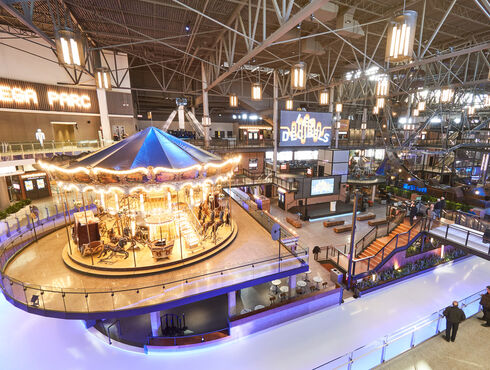 Les Galeries de la Capitale's Méga Parc
2 — 2
What to see & what to do nearby
Parc de la Chute-Montmorency: Located a mere 15 minutes from Old Québec, Parc de la Chute-Montmorency is a spectacular historic site. The waterfall is an awe-inspiring 83 m/272', a full one and a half times higher than Niagara Falls. You can admire stunning views from the cable car, from zipeline or via ferrata, from the many lookout points throughout the site or from the stairs climbing up the side of the promontory.
Les Galeries de la Capitale's Méga Parc: Recognized as THE indoor entertainment destination in Eastern Canada, the Méga Parc is one of the most important tourist attractions in the Quebec region. Located in the heart of the Galeries de la Capitale, the Méga Parc has been completely redesigned to offer a thrilling experience in a surreal environment straight out of the industrial period. With its 18 phantasmagorical attractions - including the first spokeless Ferris wheel in North America, the longest indoor skating trail in Canada and its zipline over 40 feet in the air - young and old will be delighted by this new offer!
Prices are subject to change
Current packages
In this hotel
Only 3 packages available
1 night stay
Restaurant credit of $50 at the Ilot restaurant (per stay)
Access to the outdoor jacuzzi, to the swimming pool in season
Access to facilities and schedule of activities
2-night stay in a King Classic room, view on the mountain
$ 150 credit to our restaurant l'Îlôt (per stay)
Access to all the activities and facilities
— Activities
Onsite
Jacuzzi (spa)
Outdoor pool
Hiking
Lakeside
Fitness center
Non-motorized nautical activities
Motorized nautical activities
Beach
Volleyball
Cross-country skiing
Snowshoeing
Ice skating
Fatbike
Nearby
Massage
Steam bath
Beauty treatments
Tennis
Golf
Mountain bike
Horse riding
Snowmobiling
Ski station
Tube sliding
Ice fishing
Bike path
Zoo
Museums and art galleries
Fashion shop
— Our services
2nd night at 25% off
Corporate rate for business travelers
Therapeutic bath (in the room)
Dogs welcome
King bed
Kitchenette
Lounge area
Mini fridge
Kitchen fully equiped
Espresso coffee maker
Balcony
Free WiFi
Free parking
Charging stations
Restricted mobility : Full access
4 star hotel
On-site restaurant
Wine cellar
Queen bed
Entourage sur-le-Lac Resort
Lac-Beauport - Région de Québec
99, chemin du Tour-du-Lac,
Lac-Beauport, QC G3B 2R2
CITQ Number: 005736