Texte entête

Hôtel Montfort Nicolet
Nicolet - Centre-du-Québec
Ôrigine Member for 2 years.
Resort in the heart of nature, located within 1.5 hours of major urban centers!
The Hotel Montfort Nicolet stands out for its finely decorated rooms, the hidden gardens, walking trails and interpretation centers that are nearby. With a gourmet restaurant and a Nordic spa with an urban look, it's the ideal destination to relax and get away from the daily routine.
Several water activities on site
1 — 7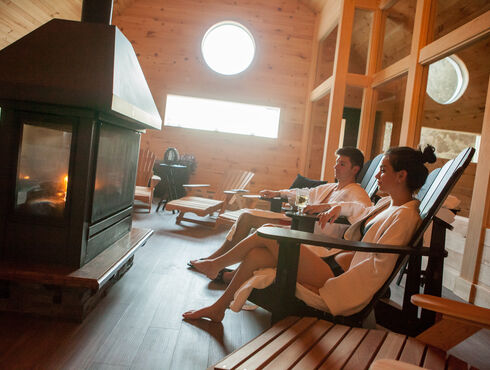 Several water activities on site
5 — 7
A colorful activity passport!
The hotel's activity passport offers a wide variety of equipment to help visitors make the most of the hotel's unique location. This is an opportunity to practice several sport activities such as biking, fatbike, canoeing, kayaking, pedal boats and paddle boarding. Choose your activity and discover the most beautiful landscapes of the region, on the water or in the woods!
This passport also allows you to rest by the outdoor fire and play board games. Whatever your preferences, there is something for everyone!
Discover the hidden gardens!
Quite simply breathtaking, the outdoor gardens of the Hotel Montfort Nicolet are a small wonder and a well-kept secret! During your stay, do not miss your chance to see this calm and restful place. The large gardens are flowered and there is a collection of statues of cherubs, two fountains and rest areas furnished with urban furniture. In the evening, the gardens are transformed to offer you marshmallows on the spit near our huge stone fireplace, a cocktail made of the best regional concoctions and some evenings, outdoor shows!
Tomahawk grill, Steakhouse at its best!
The hotel restaurant offers a varied menu including tasty grilled meats, tartares, fish and platters to share. Our concept allows you to spend a delicious moment, in addition to enjoy our quality dishes! It is in a warm and cozy atmosphere that you will live the delectable experience that Tomahawk grill has to offer.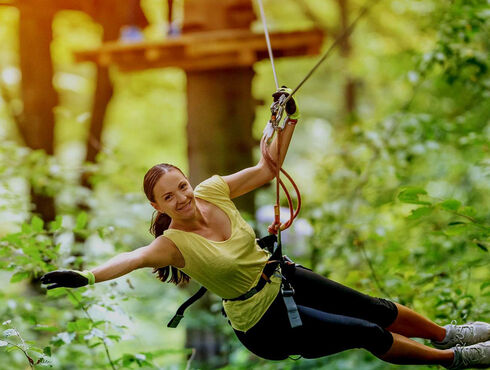 Arbre en Arbre Drummondville
1 — 2
Village québécois d'antan
2 — 2
What to see & what to do nearby
Arbre en Arbre Drummondville : The aerial hebertism park offers 90 exercises of varying degrees of difficulty. Each course is made up of suspended exercises, such as zip lines, monkey bridges and Tarzan cords, linked together by platforms and cables which make it possible to travel from tree to tree. Come try the course featuring seven zip lines, or the recreational course, nearly a kilometer long on the ground, with fifteen games.
Village québécois d'antan : A perfect activity for a family vacation! Relive Québec's history from 1810 to 1930 through the captivating tales of the costumed villagers. The Village is made up of real houses and buildings from the 19th and 20th century which have been moved to an exceptional site with an enchanting setting.
Prices are subject to change
Current packages
In this hotel
1 night accommodation
1 breakfast
$25 credit per person at Tomahawk grill Nicolet restaurant
Activity passport: bicycle, fatbike, canoe, kayak, pedal boat, paddle board, etc.
1-night's accomodation in a detente room
1 breakfast
$50 per person to spend at Tomahawk Grill restaurant
Activity passport: bicycle, fatbike, canoe, kayak, pedal boat, paddle board, etc.
— Activities
Onsite
Jacuzzi (spa)
Hiking
Massage
Fitness center
Steam bath
Beauty treatments
Indoor pool
Riverside
Non-motorized nautical activities
Mountain bike
Cross-country skiing
Snowshoeing
Fatbike
Snowmobiling
Bike path
Nearby
Motorized nautical activities
Beach
Fishing
Tennis
Golf
Horse riding
Ice skating
Ski station
Tube sliding
Ice fishing
Zoo
Museums and art galleries
Fashion shop
— Our services
Fire place
Corporate rate for business travelers
Therapeutic bath (in the room)
Dogs welcome
King bed
Kitchenette
Lounge area
Mini fridge
Kitchen fully equiped
Balcony
Free WiFi
Free parking
Charging stations
Restricted mobility : Full access
4 star hotel
On-site restaurant
Queen bed
Employés internationaux
3rd night at 50 % off
Nicolet - Centre-du-Québec
1141, rue Saint-Jean-Baptiste,
Nicolet, QC J3T 1W4
CITQ Number: 243180