Texte entête

Auberge Godefroy
Bécancour - Centre-du-Québec
Ôrigine Member for 30 years.
The Auberge Godefroy, four-star hotel located halfway between Montreal and Quebec, welcomes you in a warm atmosphere with cozy comfort and personalized services. It stands out for its amenities, its services, its delicate attentions and its own quality of an exclusive resort.

Front facade of the hotel
1 — 5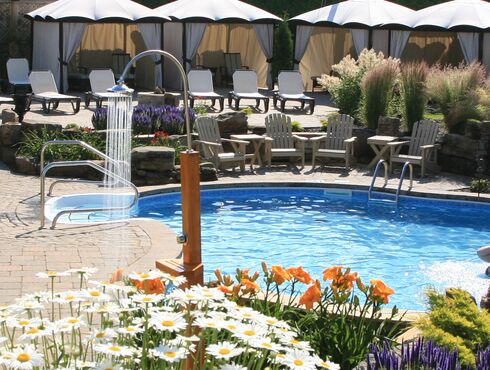 Espace Aqua-Detente
4 — 5
A nod to history
Founding member of the Ôrigine, Auberge Godefroy is a chic 4-star hotel located on the territory of the former lordship of Jean Godefroy de Lintôt. It's history naturally influenced the majestic architecture of bricks and stones which recalls the mansions of the old seigneuries. Enchanting gardens, water fountains and picturesque landscaping design form a delightful setting all around the hotel in addition to offering a splendid view of the Laviolette bridge.
From the dinning room to the comfort of your room, from relaxation to entertainment, everything is subject of discoveries and multiple attentions.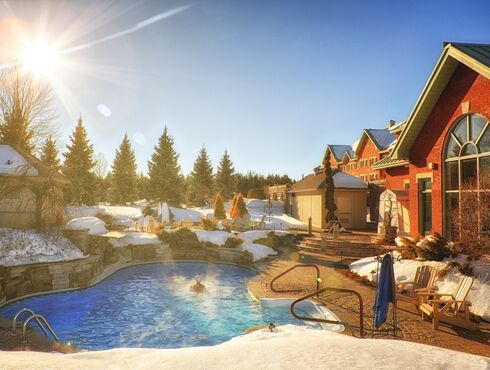 Espace Aqua-Detente in winter
1 — 1
Place of relaxation
Auberge Godefroy allows its clients to relax at the 4-season Espace Aqua-Detente area with indoor and outdoor pools, hot tub and heated natural spas.
A gourmet stay
The Godefroy dining room offers light and refined cuisine in a modern and chic decor. The executive chef and his crew create with sought-after local grown products so that your culinary experience be in your best memories. They perfectly master the art of captivating the most discerning palates with gourmet dinners, varied lunch buffets and brunches and a wide selection of wines. Shall we reserve a table for you?
Standard room
Absolute comfort, with two double beds or two queen-size beds.
Prestige plus
Sumptuous king-size bed in a distinctive room remarkable for its fine lines. Ambient fireplace adds to relaxation and tranquility.
Godefroy luxury
A luxurious and spacious guest room that will whisk you away with its ambience. King-size bed, therapeutic bath with chromatherapy, majestic wood-burning fireplace and private balcony.
Prestige room
Splendid room featuring a king-size bed and decorated with wooden design elements, understated colours and vibrant touches.
Superior room
A spacious, comfortable room with one king-size bed.
Executive suite
Fantastic king-size bedroom adjacent to a magnificent lounge. Ambient fireplace adds to relaxation and tranquility.
Presidential Suite
A spacious suite featuring a king-size bed and adjacent to a functional meeting room for welcoming business colleagues or friends. Ambient fireplace adds to relaxation and tranquility.
Discover the Auberge Godefroy
Let yourself be charmed by the multiple experiences you can have at the Auberge.
— Activities
Onsite
Jacuzzi
Outdoor pool
Hiking
Massage
Fitness center
Steam bath
Beauty treatments
Indoor pool
Golf
Volleyball
Snowshoeing
Snowmobiling
Bike path
Nearby
Riverside
Non-motorized nautical activities
Motorized nautical activities
Water slides
Beach
Tennis
Mountain bike
Horse riding
Cross-country skiing
Ice skating
Fatbike
Ski station
Tube sliding
Zoo
Museums and art galleries
Fashion shop
— Our services
Fire place
King bed
Kitchenette
Lounge area
Mini fridge
Espresso coffee maker
Balcony
Therapeutic bath
Free WiFi
Free parking
Charging stations
Restricted mobility : Partially accessible
4 star hotel
On-site restaurant
Wine cellar
Queen bed
Bécancour - Centre-du-Québec
17575, boulevard Bécancour,
Bécancour, QC G9H 1A5
CITQ Number: 039616