Texte entête

Le Saint-Sulpice Hôtel Montréal
Montréal - Montréal
New Member
Indulge your imagination, and enjoy our Montreal
The hotel's warm and caring team welcomes you with pleasure, and helps you delight in exclusive, tailored, Montrealer moments; your very own SoSulpice! moments! Discover our vibrant city through its rich history, culture, gastronomy and much more!

Massages in your room
1 — 7
The Scandinavian Spa Old Montreal
2 — 7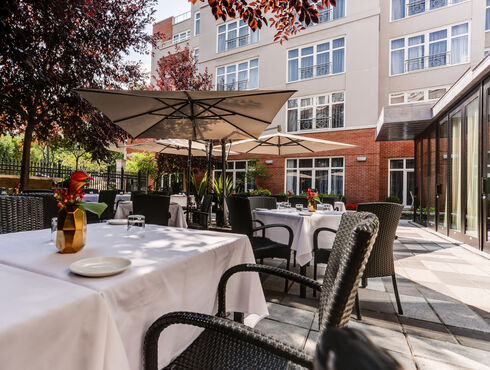 A pretty sunny terrace
5 — 7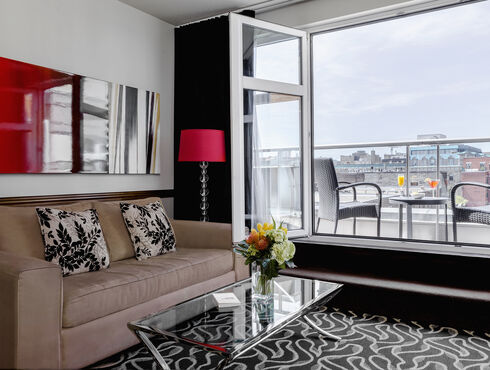 Suites with private terrace
7 — 7
A well-deserved break, a bit of time for yourself
Whether staying alone, with your significant other, family or friends, even your loving pet, you will appreciate being able to fully enjoy the moment and relax. Lots of space, attentive service, endless possibilities, smiles, enjoying some free time: this is what the Saint-Sulpice is offering you.
Spacious suites
Make yourself comfortable in your suite (500 to 1500 sq ft). In the living room lies a welcoming sofa-bed on which you can read a good book or get cozy in front of the TV while sipping your Nespresso coffee. If you feel like cooking up a feast (or warming up some delicious take out!), your kitchenettes are fully equipped to do so. Get as much fresh air as you want by opening your French window onto either the hotel's interior garden or Old Montreal's famous cobblestone streets. Take a hot bath and enjoy the L'Occitane en Provence product line. Reserve a suite with a balcony to enjoy summer days, or one with an electric fireplace to warm up during winter!
In-Room massage
Indulge in a massage or spa treatment (solo or duo) in the comfort of your suite! Massage therapists from their partner Appia Nomade will pamper you and handle all the details: perfect temperature, heating massage table, musical background, aromatherapy, and essential oils inspired by Québec's boreal forest.
A sunny terrace in the heart of our gardens
During your stay at Le Saint-Sulpice Hôtel Montréal, it is recommended that you take a well-deserved break in their beautiful gardens! Great for savouring a coffee, sipping a drink, or nibbling on some delicious bites! In this unique green setting, you can enjoy a quiet moment, protected from the sounds of the city. The interior court faces the Sulpicien community's gardens… A great way to start learning about this community, who played an active role in the foundation of Montréal.
Spa & gym
Hotel and spa go hand in hand to add a little luxury to your stay. They have curated exclusive spa and gym experiences located just a few steps away from the hotel. Hotel guests have complimentary access to U.N.I. Fitness Center and can also take advantage of preferred rates at Spa Scandinave Vieux-Montréal and at Yoga Vieux-Montréal studios. These great partners share their philosophy and strive for impeccable service.
The team is there to advise you
1 — 5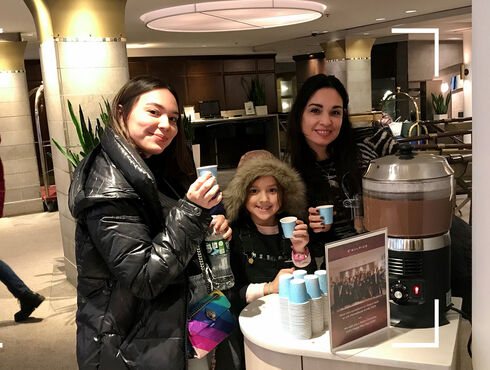 Little touches to warm hearts
3 — 5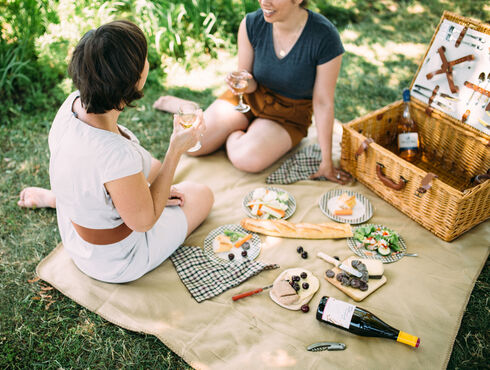 A SoSulpice! picnic
4 — 5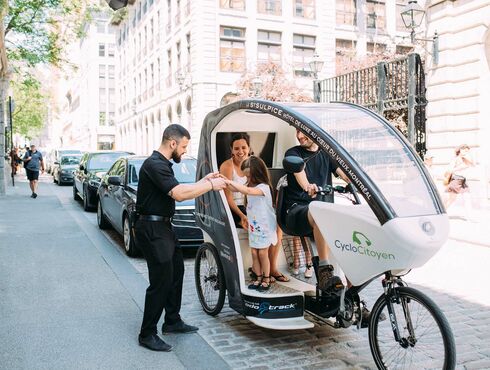 Discover the city via, unique, exclusive and totally Montreal experiences; SoSulpice! moments
Our ideal location right in the heart of Montreal's most bustling neighborhood and our well-established network of partners enables us to offer you exclusive experiences and enhance your trip with special Montreal touches! Your rooms key opens more than one door. Adapting to every season, we will offer unique tours created by our team members and local celebrities; some of our local partners will welcome you in a <i>SoSulpice!</i> way; you will get exclusive accesses to different exhibits and events in the city; we will make you discover local products and artists; we will get you acquainted with notable Montrealer's, some of whom make Montréal what it is!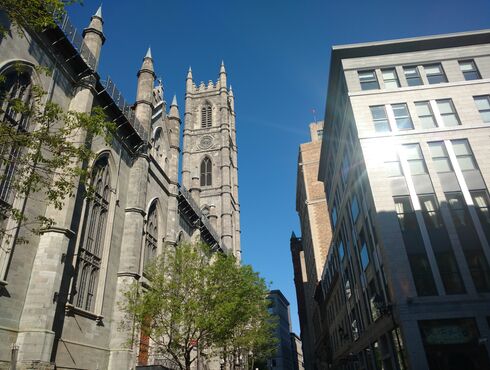 Let yourself be impressed by the architecture of the neighborhood
1 — 6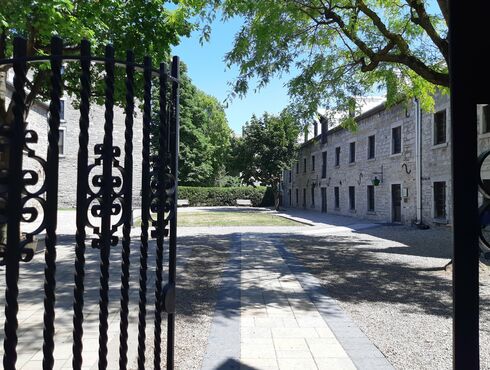 Let yourself be impressed by the architecture of the neighborhood
2 — 6
Laissez-vous impressionner par l'architecture du quartier
3 — 6
Laissez-vous impressionner par l'architecture du quartier
4 — 6
Laissez-vous impressionner par l'architecture du quartier
5 — 6
Laissez-vous impressionner par l'architecture du quartier
6 — 6
Explore Old Montreal
Staying at Le Saint-Sulpice Hôtel Montréal, in the heart of Old-Montreal, means being footsteps away from the best touristic attractions and the most sought after and entertaining cultural events Montreal has to offer. Relive the spirit of « Nouvelle-France » as you wander through the cobblestone street of Old-Montreal. Admire the history charged facades of old banks and buildings that were dedicated to fur trading, amongst many others. Discover Montreal's history through its numerous museums.
Old-Montreal neighborhood also includes the Old Port and its numerous attractions: The Clock tower, Quay de l'Horloge's urban beach and the Science Center, to name just a few. It is also the starting point for many sport activities to enjoy with family and friends.
In the last few years, Old Montreal has also established itself as a must when it comes to going out: bars (including many speakeasy), restaurants and cafés have elected residence along St-Paul street, which is now partly pedestrian in the summer, to everyone's delight. Interested by other areas of Montreal? As you should! Montreal has so much to offer. Fortunately, access is very easy from the hotel! Our reputed Concierge team, all Montreal experts, will guide you at the whim of your desires and interests.
Superior Suites
Spacious and chic loft style living spaces.
Deluxe Suites
Just like your private small apartment, with separate bedroom.
Executive Suites
Enjoy a balcony overlooking our garden, and for some a dining table.
Signature Suites
The 6 most unique and beautiful suites, with the best views of Old Montreal rooftops.
Current packages
In this hotel
Le Saint-Sulpice Hôtel Montréal
Montréal - Montréal
Relaxing getaway
1 night in a Superior suite with an electric fireplace and a bath
1 breakfast box delivered to the door
1 SoSulpice! bath kit
Free self parking and late check out at 3pm
Le Saint-Sulpice Hôtel Montréal
Montréal - Montréal
Only 3 packages available
Urban getaway
15% discount on the rate of the day, on your choice of suite
1 breakfast in a box
1 surprise welcome gift
25% discount at Spa Scandinave Vieux-Montréal
— Activities
Onsite
Massage
Nearby
Jacuzzi
Outdoor pool
Hiking
Fitness center
Steam bath
Beauty treatments
Indoor pool
Riverside
Motorized nautical activities
Golf
Cross-country skiing
Snowshoeing
Ice skating
Fatbike
Bike path
Museums and art galleries
Fashion shop
— Our services
Fire place
King bed
Dogs welcome
Kitchenette
Lounge area
Mini fridge
Espresso coffee maker
Balcony
Free WiFi
Charging stations
Restricted mobility : Full access
4 star hotel
On-site restaurant
Queen bed
Le Saint-Sulpice Hôtel Montréal
Montréal - Montréal
414, rue Saint-Sulpice,
Montréal, QC H2Y 2V5
CITQ Number: 180950