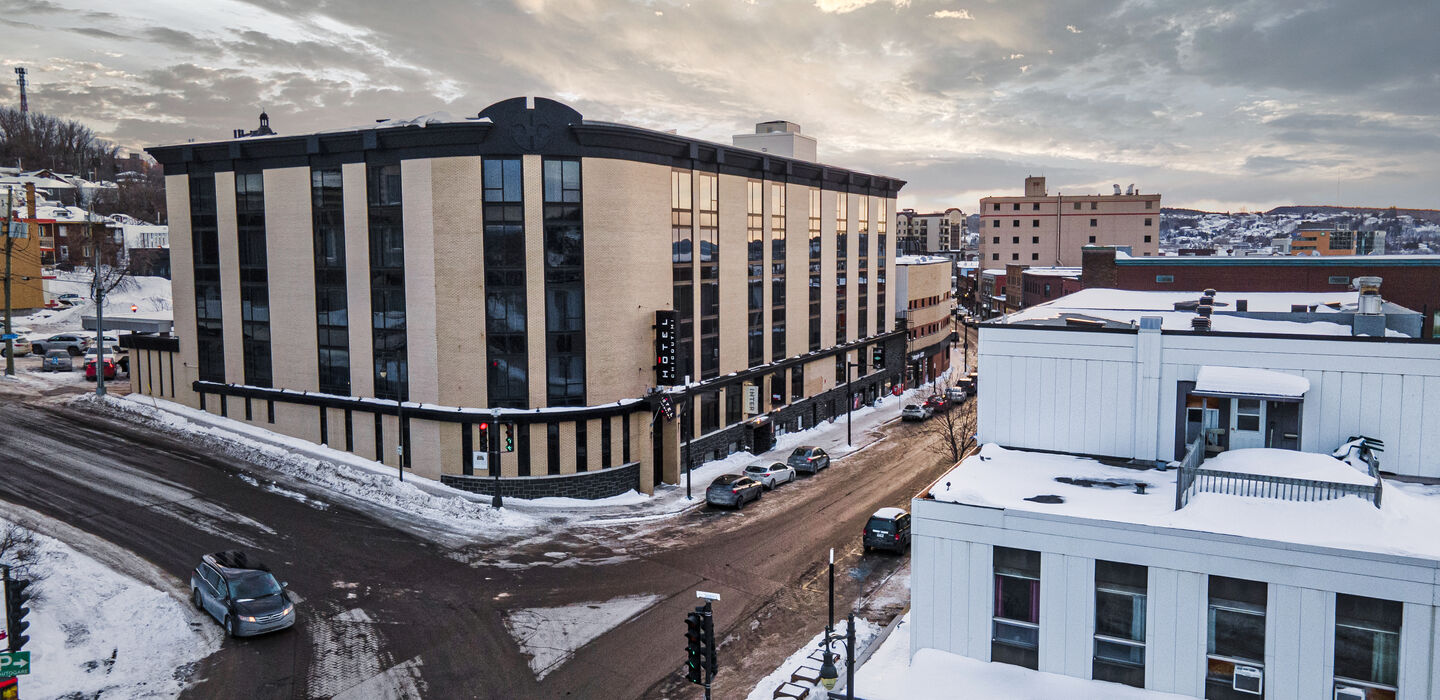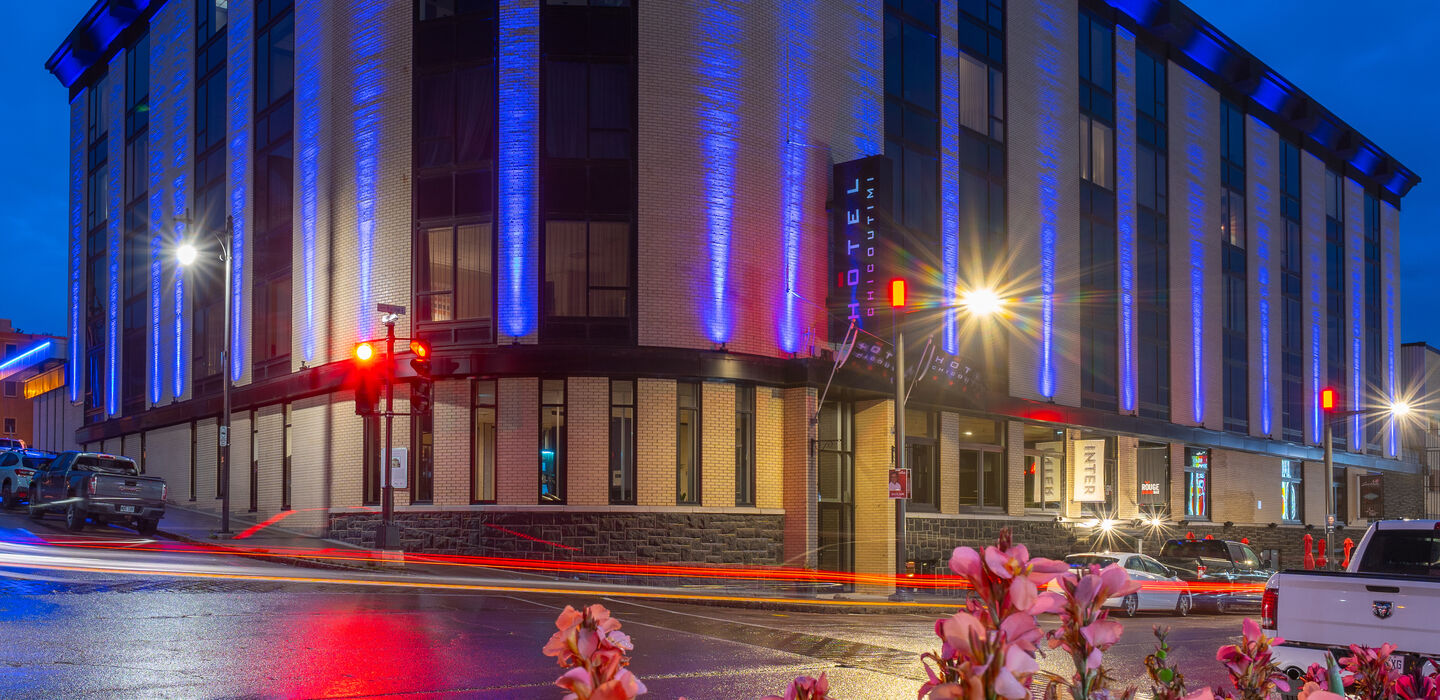 Texte entête

Hôtel Chicoutimi
Saguenay – Arrondissement Chicoutimi - Saguenay/Lac-Saint-Jean
Ôrigine Member for 2 years.
A unique concept and a unique view in the amazing kingdom of Saguenay,
like you!
This four-star hotel stands out for its spacious and modern rooms with a view of the mythical rue Racine, the fjord or the cathedral, its diverse cuisine, its commitment to sustainable development and its enviable location. The century-old, eco-friendly facility features three restaurants, a multitude of meeting rooms and a co-working space designed for today's users. Perfect for business trips, a gourmet getaway or a family trip.
Enjoy a good meal right in your room
1 — 1
An experience that is sure to hit the spot...
You'll be able to choose from several menus created with fresh and local ingredients, in their 3 restaurants.
The restaurant Inter, trendy and animated, is popular with local people as well as visitors. Whether it's indoors or outdoors on the sidewalk café, come try their fresh pasta, fine charcuterie, fresh salads and much more. There's also an impressive selection of privately-imported wines and beers.
Le Rouge Burger Bar is a sports bar and fashionable restaurant combined. Trendier than a pub, but less sophisticated than a dining-room, the place is ideal both for sports fans as well as couples looking for a cozy atmosphere. As for the food, you are the chef! Well, almost. Combine your hamburger patty with the ingredients of your choice and create your very own burger!
The next day, enjoy one of the delicious breakfast at La Galerie restaurant.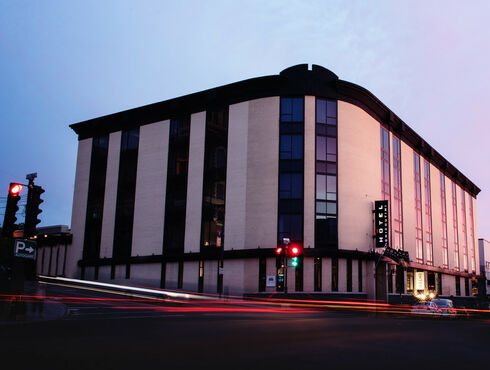 Hôtel Chicoutimi Saguenay-Lac-Saint-Jean
1 — 1
A lively district!
Pedestrian only on the best days of the summer season, the street in front of the hotel is transformed into a stage and showroom. With its stores, festivals, bistros and fine restaurants, it is a tourist attraction in itself. No wonder the hotel is a favorite address for many artists.
An event designed for you
1 — 2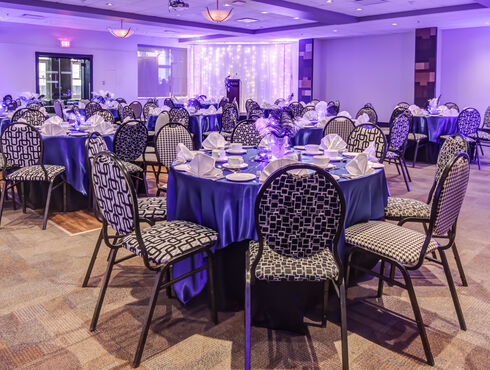 Several rooms available according to your needs
2 — 2
The essential Signature for your corporate events
Located in downtown Chicoutimi, in the heart of the business district, the Hôtel Chicoutimi is the ideal place for conventions and business meetings. With cutting-edge technology, the 8 meeting and banquet rooms are well-lit and can be adapted to your needs.
The cuisine, well-known for its quality and variety, makes the most of the best local products. One of their priorities is to work together with local producers and craftspeople.
Look no further if you wish to rent a meeting room in Saguenay. At the Hôtel Chicoutimi, they can meet all your needs. Their event coordinators will guide you expertly in the organization of your business event or convention in Chicoutimi. They'll take special care of you and your guests!
Parc national des Monts-Valin (Credit: Luc Rousseau - Sépaq)
1 — 2
La Pulperie de Chicoutimi
2 — 2
What to see & what to do nearby
Les Navettes maritimes du Fjord : The Saguenay Fjord Marine Shuttle's purpose is simple: to offer visitors an alternate and original means of transportation, allowing them to travel from one point to another with a regular route and Schedule, like the bus or subway. In addition to breathtaking landscapes, the Navettes Maritimes du Fjord also offers the chance to visit the villages and learn more about the region's history and nature.
Parc Aventures Cap Jaseux: The Parc Aventures Cap Jaseux is an outdoor lover's ultimate playground.This adventure park on the shores of the Saguenay Fjord with Dôme, suspended spheres, camping, log cabins and tree houses, offers a real chance to experience one extreme to another. Choose from sea-kayaking, via ferrata, high ropes courses and zip-lines or just take it easy on a light hike or a family picnic.
Prices are subject to change
Current packages
In this hotel
2-night stay in a Tendance room
2 breakfasts
Ski ticket for 1 day at Ski le Valinouët
2 night in a superior room
2 breakfasts
1 gift card of $80 at the Inter restaurant (for the stay)
1 entry to the Nordic spa
— Activities
Onsite
Fitness center
Nearby
Outdoor pool
Hiking
Massage
Beauty treatments
Indoor pool
Riverside
Non-motorized nautical activities
Motorized nautical activities
Fishing
Tennis
Golf
Mountain bike
Volleyball
Horse riding
Cross-country skiing
Snowshoeing
Ice skating
Fatbike
Snowmobiling
Ski station
Tube sliding
Ice fishing
Bike path
Museums and art galleries
Fashion shop
— Our services
Corporate rate for business travelers
Therapeutic bath (in the room)
Dogs welcome
King bed
Lounge area
Mini fridge
Free WiFi
Free parking
Charging stations
Restricted mobility : Partially accessible
4 star hotel
On-site restaurant
Queen bed
Employés internationaux
3e nuitée à 50 % de rabais
3x les points Privilège
Saguenay – Arrondissement Chicoutimi - Saguenay/Lac-Saint-Jean
460, rue Racine Est,
Saguenay – Arrondissement Chicoutimi, QC G7H 1T7
CITQ Number: 040095