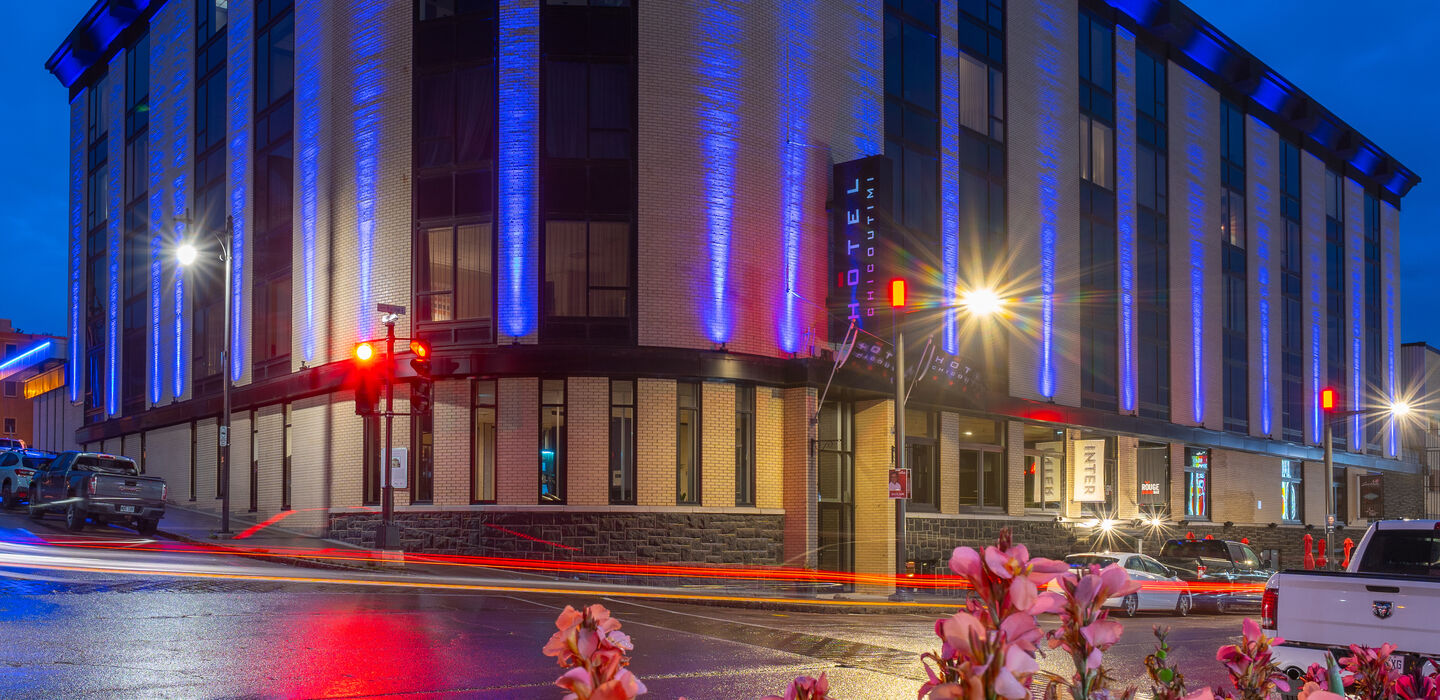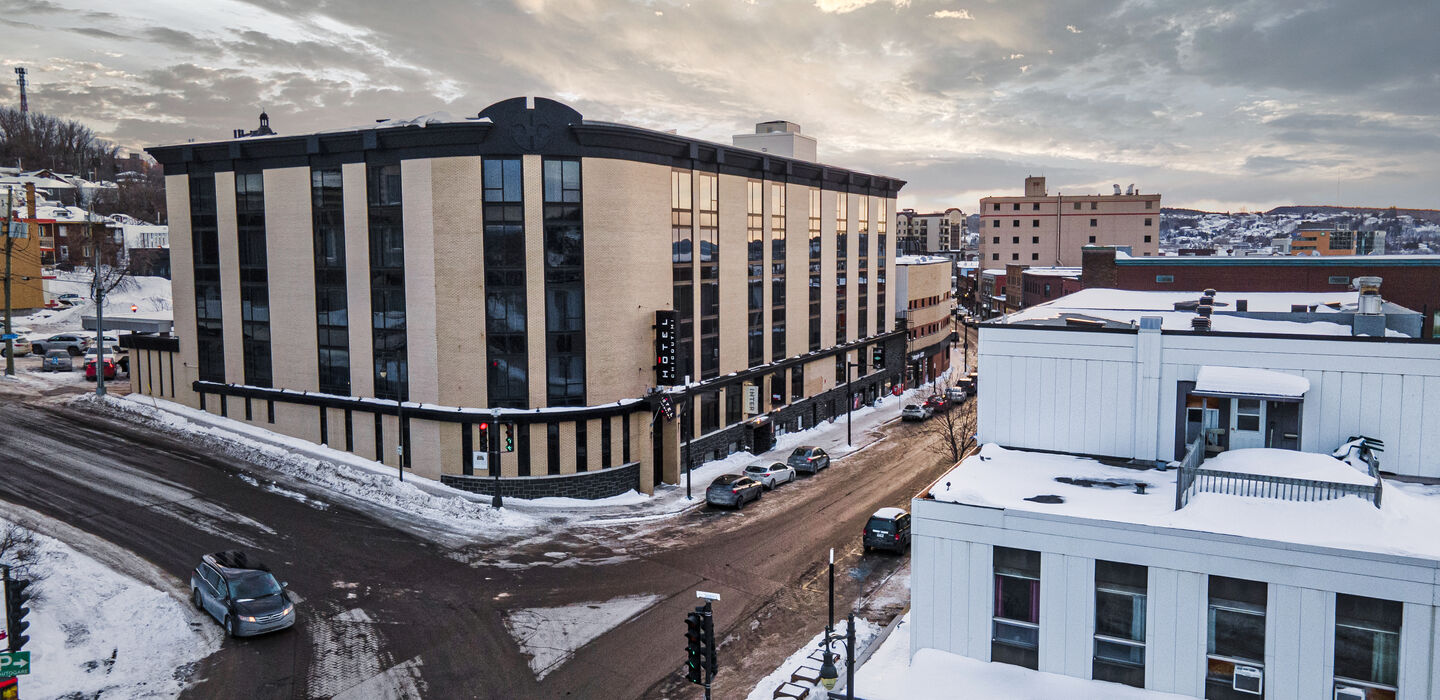 Texte entête

Hôtel Chicoutimi
Saguenay – Arrondissement Chicoutimi - Saguenay/Lac-Saint-Jean
Ôrigine Member for 2 years.
A unique concept and a unique view in the amazing kingdom of Saguenay
This historic establishment with a modern and daring look is ideally located on the mythical Racine Street, a stone's throw from the Saguenay River. Its spacious rooms have been recently renovated and upgraded with small and large comforts. There is even a kitchen in each room! Whether it's for a business stay, a gourmet getaway or a family trip, the eco-responsible century-old hotel welcomes you with a host of possibilities. There are three restaurants, a "green" gym, a collaborative space and a multitude of meeting rooms.
Enjoy a good meal right in your room
1 — 1
An experience that is sure to hit the spot...
Guests enjoy the best of the region, with three different restaurants in one location that make local sourcing a priority.
The trendy and lively L'Inter restaurant holds a special place in the hearts of locals and visitors alike. Whether indoors or on the large outdoor terrace, come and enjoy the fresh pasta, fine charcuterie, crisp salads and timeless tartars.
Le Rouge Burger Bar is a fusion of a sports bar and a contemporary restaurant. More modern than a tavern, but less stuffy than a dining room, the place is as much for sports fans as for couples looking for a cozy atmosphere. When it comes to food, you're the chef. Well, almost. Combine your patty with the ingredients of your choice and create a burger to your liking.
Your mornings are in good hands with La Galerie, which offers a variety of à la carte breakfasts. Healthy and original dishes, such as the Poke bowl breakfast or a traditional egg and bacon will start your day off right.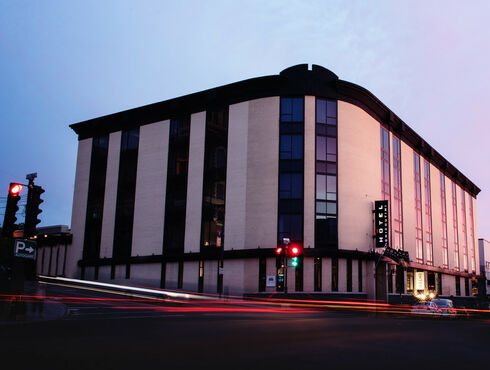 Hôtel Chicoutimi Saguenay-Lac-Saint-Jean
1 — 1
A lively district!
Pedestrian only on the best days of the summer season, the street in front of the hotel is transformed into a stage and showroom. With its stores, festivals, bistros and fine restaurants, it is a tourist attraction in itself. No wonder the hotel is a favorite address for many artists.

Below, the magnificent port area along the river. To the west, still on the waterfront, la Petite Maison blanche, that symbol of resistance from the 1996 Flood, sits majestically, while to the east, the most beautiful urban forest in Quebec is within your reach for miles of walking across the waterways on trails linked by scenic walkways.
An event designed for you
1 — 2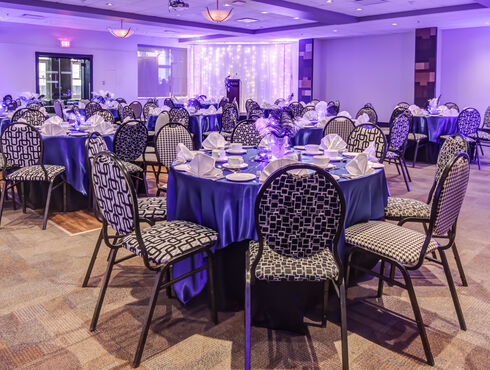 Several rooms available according to your needs
2 — 2
The essential Signature for your corporate events
Located in downtown Chicoutimi, in the heart of the business district, the Hôtel Chicoutimi is the ideal place for conventions and business meetings. With cutting-edge technology, the 8 meeting and banquet rooms are well-lit and can be adapted to your needs.
The cuisine, well-known for its quality and variety, makes the most of the best local products. One of their priorities is to work together with local producers and craftspeople.
Look no further if you wish to rent a meeting room in Saguenay. At the Hôtel Chicoutimi, they can meet all your needs. Their event coordinators will guide you expertly in the organization of your business event or convention in Chicoutimi. They'll take special care of you and your guests!
La Pulperie de Chicoutimi / Musée régional
1 — 2
Glaces du Fjord - photo credit: Laurent Silvani
2 — 2
What to see & what to do nearby
La Pulperie de Chicoutimi / Musée régional: More than a museum, La Pulperie de Chicoutimi is a vast interactive cultural and tourism centre dedicated to preserving and promoting the Saguenay – Lac-Saint-Jean's patrimony and to the furthering of arts and history. La Pulperie is an exceptional historical site located in the midst of the city, surrounded by a huge park, and lodged within the old mill of the Compagnie de pulpe de Chicoutimi.
Glaces du Fjord: Experience ice fishing on the Saguenay Fjord! Discover the villages of multicoloured cabins where you can do a host of activities for the whole family! Catch unusual fish such as redfish, turbot and Atlantic cod. There are over 60 species living in the Fjord! From mid-January onwards, the thick ice cover fills up with villages of cabins and many activities take place. The experience is indescribable, for all ages. Les Glaces du fjord is the perfect destination for winter lovers or the perfect place to become one!
Prices are subject to change
— Activities
Onsite
Fitness center
Nearby
Outdoor pool
Hiking
Massage
Beauty treatments
Indoor pool
Riverside
Non-motorized nautical activities
Motorized nautical activities
Fishing
Tennis
Golf
Mountain bike
Volleyball
Horse riding
Cross-country skiing
Snowshoeing
Ice skating
Fatbike
Snowmobiling
Ski station
Tube sliding
Ice fishing
Bike path
Museums and art galleries
Fashion shop
— Our services
2nd night at 25% off
Corporate rate for business travelers
Therapeutic bath (in the room)
Dogs welcome
King bed
Lounge area
Mini fridge
Free WiFi
Free parking
Charging stations
Restricted mobility : Partially accessible
4 star hotel
On-site restaurant
Queen bed
Employés internationaux
Saguenay – Arrondissement Chicoutimi - Saguenay/Lac-Saint-Jean
460, rue Racine Est,
Saguenay – Arrondissement Chicoutimi, QC G7H 1T7
CITQ Number: 040095