Texte entête

Château Vaudreuil
Vaudreuil-Dorion - Montérégie
Ôrigine Member for 1 years.
True urban oasis on 10 acres of land, Château Vaudreuil combines elegance, traditional and contemporary style. Experience their welcoming reception halls designed to meet all needs, relax on the private beach or enjoy a delicious meal at the Ristorante Villa Elina.
Des salons accueillants
2 — 8
Un hôtel complètement rénové
4 — 8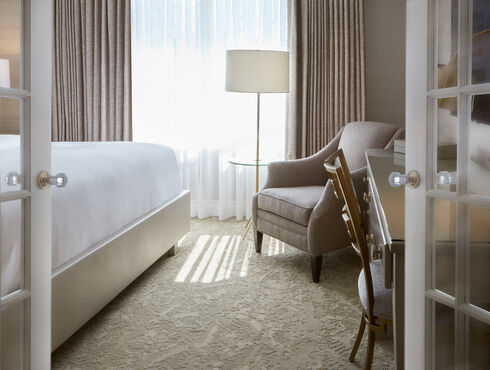 Des salles de bain au décor épuré et actuel
5 — 8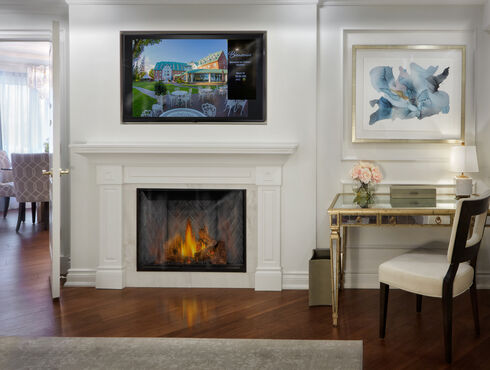 Des suites chaleureuses avec foyer
6 — 8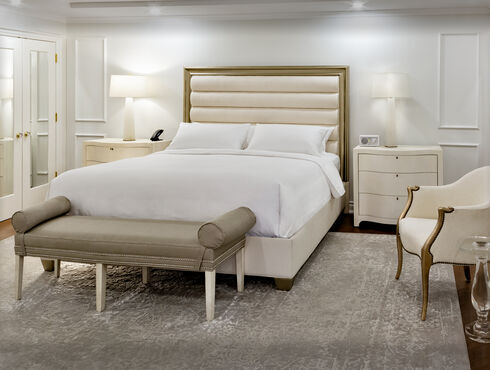 Des suites luxueuses
7 — 8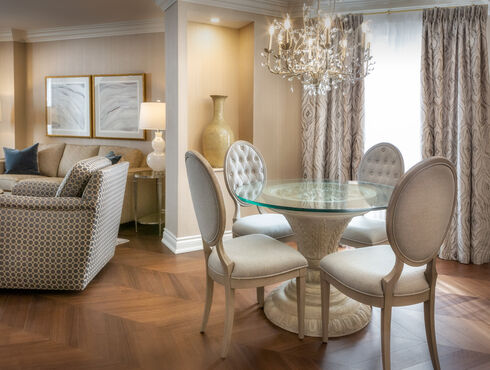 Des suites raffinées bien équipées
8 — 8
Refinement and elegance await you!
The 116 distinguished rooms and suites capture the essence of elegance in a beautiful natural setting. The newly renovated accommodations offer accessible luxury and comfort in a romantic and cozy atmosphere. Inspired by European design, they all display a classic contemporary style combining magnificent woodwork and refined furnishings.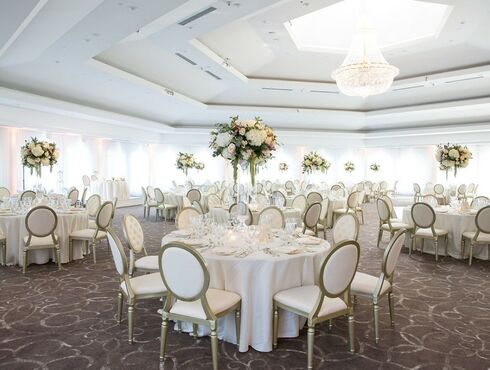 Pour vos petites ou grandes rencontres
2 — 5
Superbe vue sur le Lac des Deux Montagnes
3 — 5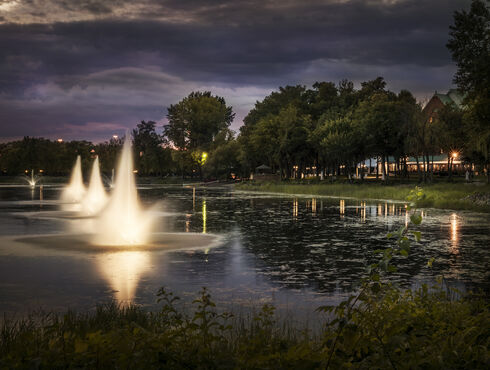 Fontaines illuminées
4 — 5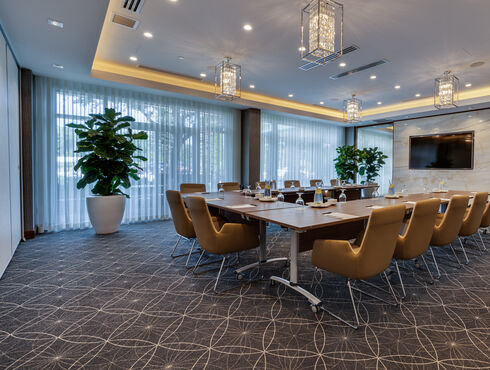 Fontaines illuminées
5 — 5
Château Vaudreuil… a unique destination for your events
The ideal place to organize a successful corporate or social event in a majestic setting surrounded by abundant nature and a breathtaking view of lac des Deux Montagnes. Choose from the 14 distinctive and sumptuous banquet spaces offering natural light, designed to appeal to all tastes. From corporate conferences to weddings, the ambassadors of the Château will assist you in the success of your event.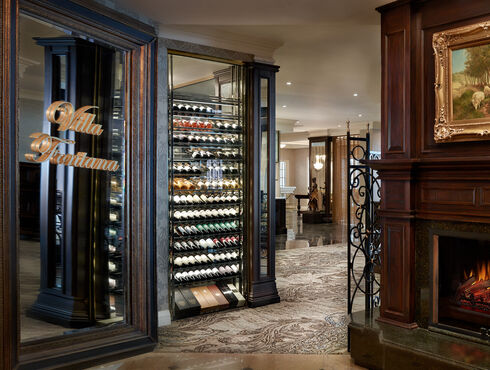 L'entrée du Villa Elina
1 — 7
Une salle à manger ravissante
3 — 7
Des plats créatifs et délicieux
4 — 7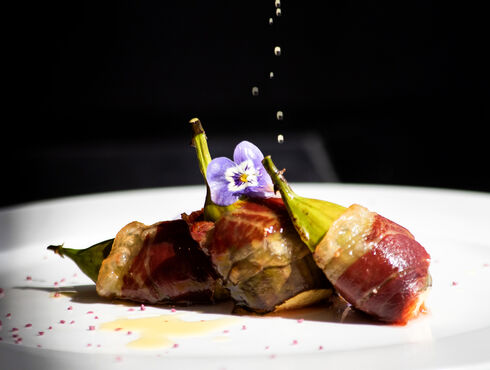 Des plats créatifs et délicieux
5 — 7
Un cellier impressionnant
6 — 7
Des plats créatifs et délicieux
7 — 7
Gastronomy in the spotlight
A dining experience that pays tribute to Italian culinary tradition, flavored with local Québec products. Signature Chef Franca Mazza and Executive Chef Luigi Della Cioppa proudly conceptualized Villa Elina's tantalizing Italian inspired menu. Locally sourced ingredients are combined artistically to create a unique dining experience that will indulge your pallet. Villa Elina blends authentic cuisine and an enchanting ambience to create an unforgettable experience. Come enjoy our terrace during summer season or Château Vaudreuil's famous Sunday Brunch described as, "A feast of gastronomy, the best brunch in the Montreal region" by the Montreal Gazette.
Zoo-Ecomuseum - (credit - Brian Lasenby)
2 — 2
What to see & what to do nearby
ZigZagZoo: ZigZagZoo offers private rooms for birthday parties, family, sporting and corporate events, qualified animators to enhance hours of fun, a mascot Zooky, a snack bar with healthy choices and much more!
Zoo Ecomuseum: One and only outdoor zoo on the island of Montréal, the Ecomuseum Zoo offers the opportunity to meet Québec's wildlife in a natural and enchanting setting. Along the pathways, meet impressive animals such as the Gray Wolf, the Black Bear, the Canada Lynx, the Arctic Fox, the River Otter, and many more!
See image gallery
Principe room
1 King bed or 2 Queen beds
Coffee maker with coffee and tea
Mini fridge
Pillowtop mattress with premium bedding
Two bathrobes
55 inch TV equipped with Chromecast
Work desk with chair
High-end toiletries
Rain-type shower or bath with rain-type shower
See image gallery
Duca room
1 King bed or 2 Queen beds
Coffee maker with coffee and tea
Mini fridge
Pillowtop mattress with premium bedding
Two bathrobes
55 inch TV equipped with Chromecast
Work desk with chair
High-end toiletries
Rain-type shower or bath with rain-type shower
See image gallery
Visconte suite
1 King bed and 1 Double sofa bed
Coffee maker with coffee and tea
Mini fridge
Pillowtop mattress with premium bedding
Two bathrobes
2 55-inch TVs equipped with Chromecast
Work desk with chair
High-end toiletries
Rain-type shower
See image gallery
Barone suite
1 King bed and 1 Double sofa bed or 2 Queen beds
Coffee maker with free coffee and tea
Mini fridge
Pillowtop mattress with premium bedding
Two bathrobes
Dining table for 4 people
Two 55-inch TVs equipped with Chromecast
Work desk with chair
High-end toiletries
Rain-type shower
See image gallery
Nobile suite
1 King bed and 1 Double sofa bed
Coffee maker with coffee and tea
Mini fridge
Pillowtop mattress with premium bedding
Two bathrobes
2 55-inch TVs equipped with Chromecast
High-end toiletries
Rain-type shower
See image gallery
Marchese suite
1 King bed
Coffee maker with free coffee and tea
Mini fridge
Pillowtop mattress with premium bedding
Freestanding bath
Rain-type shower
Two bathrobes
Eletrical shelter
Dining table for 4 people
Two 55-inch TVs equipped with Chromecast
High-end toiletries
Prices are subject to change
Current packages
In this hotel
1 night stay in a suite
1 breakfast for two served at Ristorante Villa Elina
Access to indoor pool and fitness centre
Access to summer activities : pedal boat, canoe, paddle board, tennis, bike
1 night stay in a suite
1 gourmet dinner for two served at Ristorante Villa Elina
1 breakfast for two served at Ristorante Villa Elina
Access to indoor pool and to fitness center
— Activities
Onsite
Jacuzzi (spa)
Lakeside
Fitness center
Steam bath
Indoor pool
Non-motorized nautical activities
Beach
Tennis
Nearby
Hiking
Massage
Beauty treatments
Fishing
Golf
Mountain bike
Horse riding
Cross-country skiing
Snowshoeing
Ice skating
Ski station
Ice fishing
Bike path
Museums and art galleries
Fashion shop
— Our services
Dogs welcome
King bed
Lounge area
Mini fridge
Balcony
Free WiFi
Free parking
Charging stations
Restricted mobility : Partially accessible
5 star hotel
On-site restaurant
Wine cellar
Queen bed
3rd night at 50 % off
Get 3x Privilege points
Vaudreuil-Dorion - Montérégie
21700, route Transcanadienne,
Vaudreuil-Dorion, QC J7V 8P3
CITQ Number: 506402