Texte entête

Estrimont Suites & Spa
Orford - Cantons-de-l'Est
Ôrigine Member for 9 years.
The perfect
getaway awaits you!
The Estrimont Suites & Spa offers 95 suites with fireplace, kitchenette and large balcony with BBQ. The whirlpool area also includes a sauna, a Nordic shower and a relaxing yurt for the most complete rest. The Tomahawk grill offers you delicious platters of meat and fish to share after a busy day!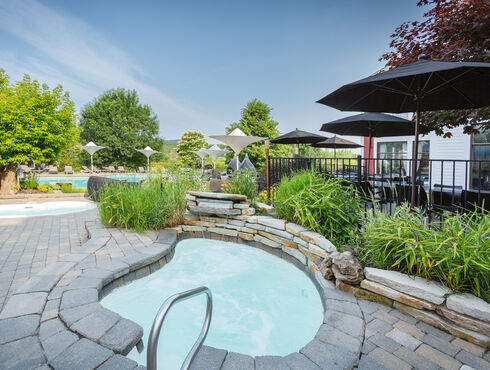 Outdoor area with jacuzzis
1 — 6
A view of Mount Orford
4 — 6
Several services offered at the Amerispa center
5 — 6
More than just a night at the hotel
Giving yourself a getaway to the Estrimont Suites & Spa is offering yourself comfort, rest, but also time. Time for yourself, to get away from everyday life and to celebrate small and large events. On the site, you will find an Amerispa center, an outdoor area with baths, sauna, 3-season swimming pool, fireplace, steakhouse, training room, indoor pool, volleyball court, tennis courts and 10 windowed reception rooms. A dedicated and experienced team offers you warm service so that you can fully enjoy your stay.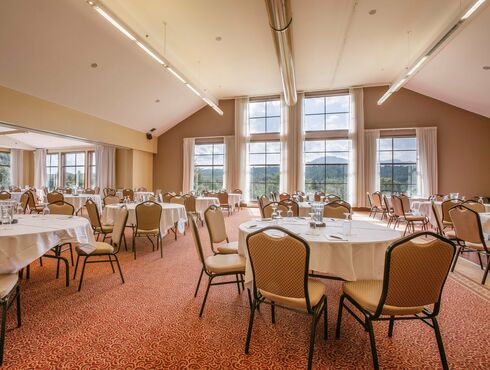 Partner of your events
Nestled in the heart of a region of lakes and mountains, the Estrimont Suites & Spa is the business destination par excellence. Add the "Estrimont" touch to your meetings and conventions and benefit from spacious suites with fireplace, fenestrated meeting rooms, and incomparable gastronomic experiences. Count on a sales team that listens to you, offering you complete support before, during and after your event.
The reception rooms with a view of Mont Orford make the hotel a unique place to celebrate a wedding or a graduation party. Celebrate your great moments in a setting like no other, surrounded by nature. Entrust your reception to a professional coordination team and enjoy every moment.
The Tomahawk grill: a friendly atmosphere
2 — 2
Theart of hospitality
The brand new steakhouse offers several spaces to gather: the terrace, the bistro, the lounge and the dining room with a view of Mont Orford. But what makes travelers happy are the slates of meat and fish to share, as well as the tasty seafood from the Tomahawk grill. With talent and passion, executive chef Badr Bourabaa and his team have put together a varied menu incorporating several suggestions from customers.
The art of hospitality for the service team is to leave a positive mark on the customer experience. For kitchen staff, it's about creating dishes that are as attractive as they are tasty.
The friendly atmosphere of the Tomahawk grill will make you live a perfect moment with family, lovers or colleagues.
Visit the Estrimont Suites & Spa
Discover this enchanting place in the Eastern Townships, a few minutes from Mont Orford!
— Activities
Onsite
Jacuzzi (spa)
Outdoor pool
Massage
Fitness center
Beauty treatments
Indoor pool
Tennis
Volleyball
Nearby
Hiking
Non-motorized nautical activities
Motorized nautical activities
Beach
Fishing
Golf
Mountain bike
Horse riding
Cross-country skiing
Snowshoeing
Ice skating
Fatbike
Ski station
Tube sliding
Ice fishing
Bike path
Museums and art galleries
— Our services
Fire place
Corporate rate for business travelers
Therapeutic bath (in the room)
Dogs welcome
King bed
Kitchenette
Lounge area
Espresso coffee maker
Balcony
Free WiFi
Free parking
Charging stations
Restricted mobility : Partially accessible
4 star hotel
On-site restaurant
Queen bed
Orford - Cantons-de-l'Est
44, avenue de l'Auberge,
Orford, QC J1X 6J3
CITQ Number: 050164