Texte entête

Auberge des Glacis
L'Islet - Chaudière-Appalaches
Ôrigine Member for 4 years.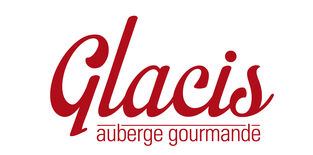 A delicious adventure
at the mill!
The Auberge des Glacis, rich in history from being located in an old flour mill, offers you rooms with a unique character and a gastronomic menu composed of more than 70 local products of the Chaudière-Appalaches region.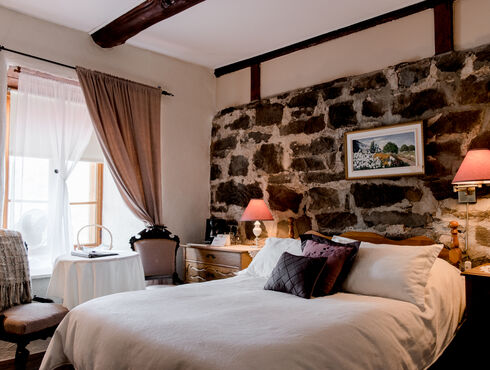 A unique and charming character
1 — 5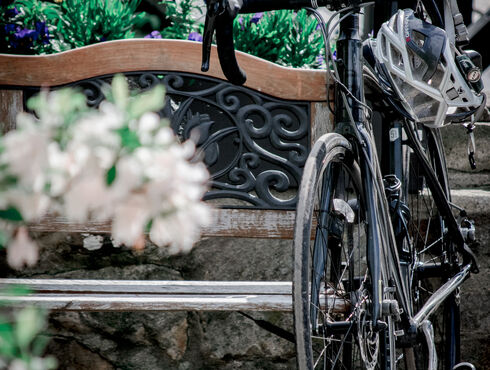 Several bike paths nearby
2 — 5
Magnificent gardens to garnish your plates
3 — 5
An inn that will charm you no matter the season
4 — 5
Several activities offered during the winter
5 — 5
Enjoy the many beauties of the vast 5 hectare estate, on the edge of the Tortue river !
There are several activities to do, directly at the hostel: gardens with hiking or snowshoe trails, historical markers, sculptures, river chairs and cork trees, massage therapy treatments and even cycle paths and access to 50 km of cross-country ski trails from the establishment! The Auberge also offers music evenings with the house group, the Pollux Band. Less than half an hour by car from the hostel, you can go on a cruise with the Lachance captains in the Isle-aux-Grues archipelago or visit golf clubs, parks, museums and more. shops! In addition, the creative village of St-Jean-Port-Joli is only 15 minutes from the establishment!
A family of passionate innkeepers
1 — 4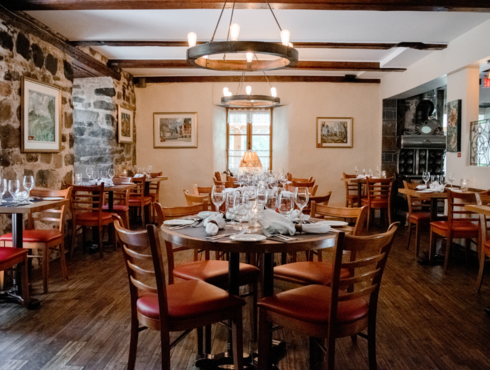 Une salle à manger charmante
2 — 4
Le chef Pascal Androdias
3 — 4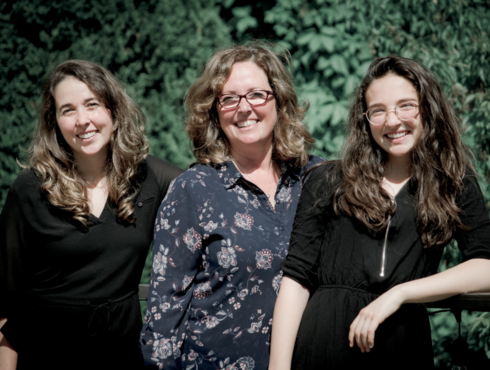 Une famille d'aubergistes passionnés
4 — 4
Travel back in time thanks to the enchanting decor, the generous local cuisine and the family welcome of this former flour mill!
Nancy Lemieux, the owner of Auberge des Glacis, her daughters, Audrey Jade and Florence, and their entire team welcome you like a member of the family! You will live a unique moment in this old flour mill thanks to its picturesque atmosphere, its massive stone walls and its rustic style rooms. The Auberge des Glacis offers a gourmet table concocted from 70 local producers from Chaudière-Appalaches, changing with the seasons, the products available and the creativity of its passionate chef, Pascal Androdias. Taste the terroir at its best in this intimate and friendly inn!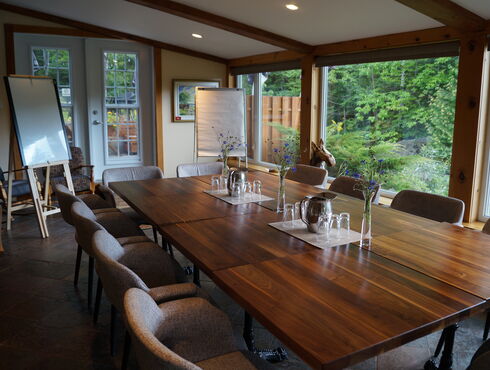 The four-season glass roof, a unique meeting room!
1 — 1
Bring water to the mill of your business!
This former flour mill is the ideal place for your shoulder to shoulder, to work as a team, to solidify links, to find good ideas and to settle major files! The four-season canopy allows you to enjoy the splendours of nature, while working! Succulent dinners are served in a magnificent dining room with stone walls and wooden beams. And in the evening, after a mixology workshop as an aperitif, what better than a gourmet 5-course meal to complete a productive day! During free time, hiking trails are accessible directly on the grounds of this inn!
Inn's rooms
All the rooms at the Auberge des Glacis have a unique character that will surely enchant you.
Our artisans - Nancy Lemieux, owner
As Nancy Lemieux explains to us, at the Auberge, great importance is given to local producers and that is why it is possible to enjoy a tasteful gastronomic menu all year long.
— Activities
Onsite
Jacuzzi
Hiking
Lakeside
Massage
Riverside
Cross-country skiing
Snowshoeing
Fatbike
Snowmobiling
Ski station
Bike path
Nearby
Fitness center
Beach
Fishing
Golf
Mountain bike
Ice skating
Museums and art galleries
— Our services
Fire place
King bed
Lounge area
Mini fridge
Therapeutic bath
Free WiFi
Free parking
Charging stations
Restricted mobility : Full access
3 star hotel
On-site restaurant
Queen bed
L'Islet - Chaudière-Appalaches
46, route Tortue,
L'Islet, QC G0R 1X0
CITQ Number: 025981